Things to Look For When Choosing a Cell Phone Service Provider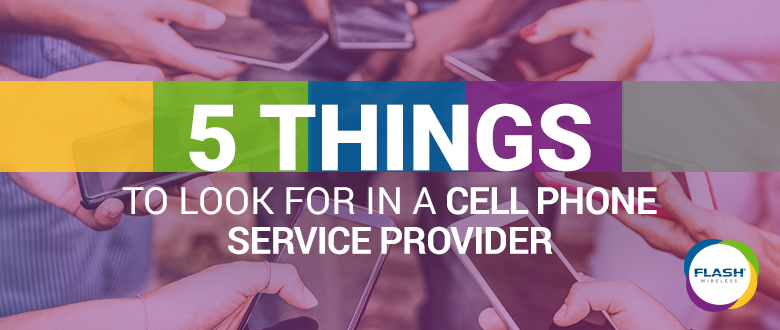 Looking for a new cell phone service provider? Before you begin the process, it's best to sit back and evaluate your needs. Are you looking for a single-line plan or a family plan? What's your budget? Are you upgrading your device(s)? Which networks get the best signal in your area? Will you need unlimited data, talk, and text?
These are just a few things that you should take into consideration when you're thinking about switching providers. But, with all the cell phone service providers out there, choosing the right one can take a bit of legwork. Luckily, we went ahead and did the dirty work for you!
5 Things to Look For in a Cell Phone Service Provider
Flexibility.

Let's face it, we all love having options, right? Whether it's plans, devices, features, etc., there's just something about being able to choose what best fits you and your needs. Cookie-cutter cell phone service providers have limited flexibility, forcing customers to pay for devices and services they may not want or use. Choose a provider who understands that flexibility is a must and not a luxury.  

Dependability.

Choosing a provider with reliable network coverage can save you a lot of time and frustration. No more having to walk around searching for an area where you get good reception. No more having to cross your fingers and hoping to see more than two bars. Just flawless network reliability whenever you need it, wherever you need it.  

Good Customer Service.

When it comes to cell phone service providers, customer service is just as important as any other quality. Being able to rely on friendly and professional experts to assist you with questions or issues gives you peace of mind. Most of all, it helps you build trust in the company and the service or product.

Competitive Pricing.

Finding a provider with plans priced within your budget doesn't have to be hard. The best companies offer a variety of plans and devices within just about every budget. Once you determine the kind of plan and device you want, be sure to compare pricing to other providers to see who's the most cost-effective. Don't forget that things such as quality, data speed, and add-on features are a factor when it comes to pricing.

No-Contracts.

Whether you're a commitment-phobe or not, no-contract cell phone plans are super beneficial. Because, after all, who wants to be tied down? Having the option to walk away or change your plan whenever you want without the threat of early termination fees can help you breathe a little easier.
Flash Wireless Is the Obvious Choice.
When it comes to picking the right cell phone service provider, Flash Wireless is the obvious choice. Flash Wireless offers flexibility and options by allowing customers to choose their network and select from a variety of competitively priced plans. Plus, there are no annual contracts, which means you can try Flash absolutely risk-free!
A Variety of Plans For Every Need and Budget.
Single-line plan. Family plan. Unlimited data. Mobile hotspot. International calling.No matter what you're looking for in a cell phone plan, Flash Wireless has something for you. Flash offers single-line plans starting at just $23/mo./line1 and unlimited data plans starting at just $39.99/mo./line1. Looking for plans for the whole family? The PRO 50 Plus Family Plan includes up to 4 lines of unlimited talk, text, and 50GB of high-speed data per line! Plus, customers can enjoy unlimited calling to Mexico and Canada, as well as mobile Hotspot and full HD streaming, all for just $522 per line.
The Latest and Greatest Wireless Phones.
With Flash Wireless, you can bring your existing device with you or buy a new one. Beginning in April, Flash Wireless will partner with Best Buy to offer their latest catalog of smartphones. Through the partnership, customers will be able to purchase a device through flashwireless.com that will be fulfilled by Best Buy.
With the Flash Wireless and Best Buy partnership, customers will get:
Access to the latest devices compatible with the Flash network

Free 1 and 2-day shipping to the customer's home

Device trade-in
Easy Order Process with F.A.S.T.
Flash Wireless customers can now sign up by phone with the help of the dedicated Flash Activation and Support Team (F.A.S.T.). It's as simple as 1, 2, 3.
STEP 1: Choose a network and plan with the help of an ACN IBO.
STEP 2: Complete the pre-order checklist.
STEP 3: Call 1-888-226-2141 and a Flash Activation and Support Specialist will assist with
the order.
With F.A.S.T., customers will be guided at every step of the order process. This new service alleviates the aches and pains of installation and activation for customers by providing technical and customer support from specially trained professionals.
FREE Cell Phone Service.
The Flash Wireless Refer-a-Friend program is a unique referral program designed to reward you with FREE3 wireless service - simply for sharing your love and passion for Flash Wireless with others.
It's easy to get started:
Switch to Flash Wireless

Refer 5 or more Flash Wireless customers

Get your service FREE

3

 for as long as your friends stay connected
And voila, it's that simple! Get 5, Get FREE3!
From flexibility and dependability to customer service and pricing, Flash Wireless is the total package. Experience what sets them apart from other cell phone service providers by making the switch today!
1 Excludes taxes, fees, and surcharges.
2 Monthly price does not include taxes, fees, and surcharges. Average price per line changes depending on the number of lines in service. The PRO 50 Plus plan allows for high-speed data access up to 50GB per line, per billing cycle. After reaching the 50GB limit, additional high-speed data is available when Data Boost is enabled. Otherwise, Flash Wireless may slow data to as low as 128 Kbps for the remainder of your billing cycle. Mobile Hotspot data uses the same 50GB. After 50GB limit exceeded, Mobile Hotspot unusable until your next billing cycle begins. Each Pro 50 Plus Family plan account is subject to a one-time activation fee and a monthly regulatory and administrative charge.
3 Excludes taxes, fees, and surcharges. Applies to Monthly Recurring Charge only.  Terms and conditions apply. Visit acn.com for complete details.
---
Share this:
---
---