Steps to Success with Anovia Payments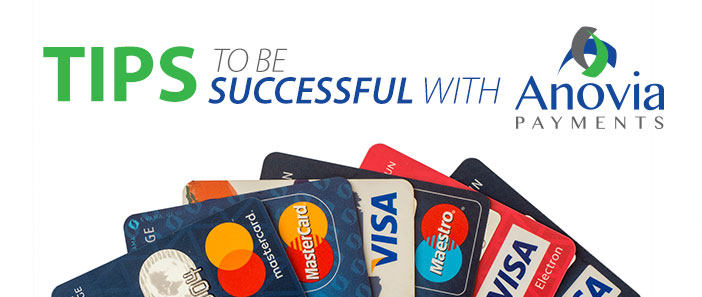 Anovia Payments is a low-risk payment processor, which means they work best with small to medium-sized businesses. It's what they specialize in. Anovia is able to provide small to medium sized businesses with custom quotes, a dedicated rep, and personalized ongoing support. This is a great benefit to small and medium-sized businesses who might not get that attention from a bigger payment processor.  Many of your local restaurants/cafes, salons/barber shops, hair salons, grocery stores, specialty food markets, doctor offices, automotive shops and contractors all could fall under a small to medium-sized business.
Because Anovia isn't as competitive with large businesses, franchises, and national brands it is best to focus your time and efforts on your local small businesses.
Below we have outlined the steps to be successful with Anovia.
Step 1: Think about anyone you know who owns a business or holds an influential position in a business and all the businesses you frequent – such as the places you eat, local businesses you shop at, etc. Write them all down in a list. This is your warm market and the places you should visit first to share Anovia merchant services. This warm market strategy is key to your success with Anovia. In addition, when thinking about the type of merchants that you can target, know that: Anovia offer solutions for all Point of Sale environments, including:
Storefront terminals:
Virtual terminals:
Mobile payments:
Allows merchants to take payments anytime, anywhere with a mobile app. It includes a responsive, secure mobile card reader that works perfectly with your mobile device
Online  payments:
Step 2: When you have your warm market list created, create an alternative list that might not be as 'warm', maybe it's the local stores and small businesses that you see and have stopped by before, but not frequently or you don't have any connection to the business. Keep this second list available to you and make an effort to start visiting your '2nd tier' merchants a little more frequently so that you become familiar to the business and their staff. For any merchants you do not know as well, developing a friendly relationship with them and visiting their business will make a difference in getting them to sign with Anovia. You can be the friendly customer face-to-face to connect them to a friendly Anovia rep. Using the above tips when working with local businesses will help them to see the benefit of switching to Anovia.
---
Share this:
---
---