Ready to Help Us Fight Childhood Hunger?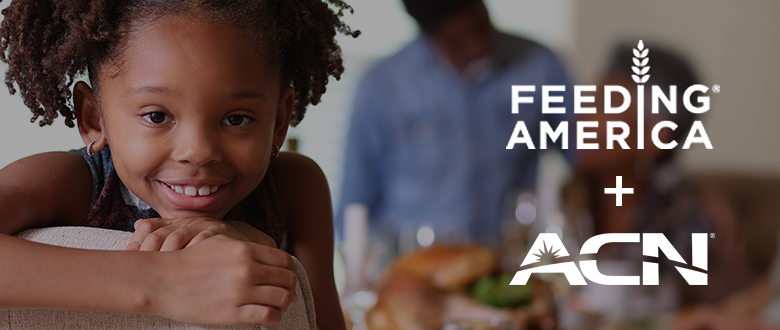 Thanksgiving is just a day away, and we all look forward to spending time with family and loved ones, enjoying our favorite foods, and giving thanks for everything we have.
But what about the millions of children right here in the U.S. who face the hard reality that Thanksgiving will be a day just like any other, with not enough to eat—and another night going to bed hungry? Or the parent who knows that they can't provide their kids with a holiday meal this year?
That's why ACN has teamed up with Feeding America, and together, we have a single mission: to fight childhood hunger and empower families to live healthier lives.
A Simple Yet Powerful Approach
Providing Essential Services and Feeding Children in Need
Every time someone signs up for a service through ACN, one meal* will be donated to help feed children and families in need. Plus, every time a customer pays their monthly bill for select services, another meal* will be donated.
ACN has already provided over 2 million meals to hungry children in need, and in 2018, we're committed to providing 1.5 million more.
For families that have hit hard times, your support can mean the difference between a Thanksgiving marked by food and family, and one marked by hunger.
*ACN will donate one meal ($0.10) each time a customer signs up for an ACN residential and/or business service or Flash Wireless service between 3/15/2018 and 3/15/2019. One additional meal will be donated each time a customer pays their monthly bill for the following services between 3/15/2018 and 3/15/2019: Flash Wireless, ACN Home Phone, and ACN Business Phone. ACN guarantees a minimum donation of 1.5 million meals to Feeding America to help families and children in need. $1 helps provide at least 10 meals secured by Feeding America on behalf of local member food banks.
---
Share this:
---
---