Flash Wireless offers Unlimited Data Plans to Customers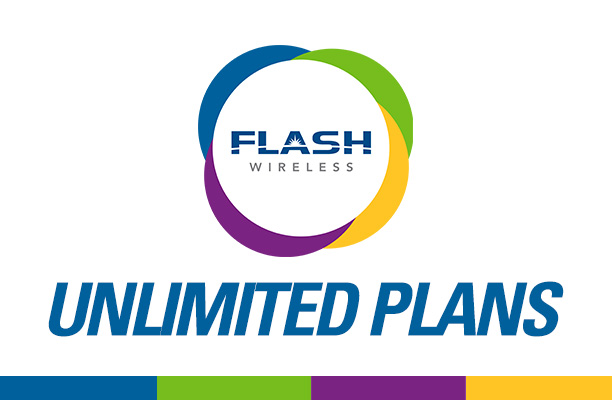 Concord, N.C. (September 2017) – U.S. –based wireless MVNO Flash Wireless recently announced that its Green and Yellow networks now offer unlimited data with no overages. Flash Wireless Yellow operates on the Nationwide Sprint 4G LTE network and Flash Wireless Green operates on the Nation's Largest and Most Reliable Network. Flash Wireless Unlimited Data Plans will be available for as low as $59.99/Month.
Flash Wireless Unlimited Data plans will feature: unlimited data, talk, text & MMS; mobile hotspot; HD streaming video, unlimited calling to Mexico and Canada, and International Roaming. New and existing customers are eligible to sign up for the unlimited plans.
Unlike other wireless providers, Flash Wireless gives their customers the power to choose. Customers pick their own plans, networks and devices, as well as have the ability to bring their unlocked phone with them if they choose. Flash Wireless also offers contract and no-contract options to its customers. Additionally, Flash Wireless positions customers to get their wireless service for free.**  Through the company's Strive for 5 Program, when Flash Wireless customers refer 5 other Flash Wireless customers, their personal Flash Wireless service can be free.** The company indicates this can add up to hundreds of dollars in savings per year for customers.
Flash Wireless is an award-winning company, taking home top honors in 2016 from the annual Interactive Media Awards for its eCommerce platform – including the Best in Class Award, the highest honor given by the Interactive Media Council.
* Excludes taxes and surcharges. Credit applies to Monthly Recurring Charge (MRC). Subject to the Flash Wireless Terms & Conditions and Acceptable Use Policy. Plan allows high speed data access (up to 4G LTE speeds with compatible network and device) only up to 22GB per line. After the 22GB limit is reached, Flash Wireless may slow data to as low as 128 kbps for the remainder of your billing cycle.
About Flash Wireless
Flash Wireless, is a division of direct-selling powerhouse ACN, Inc., and provides wireless service utilizing established and reliable nationwide networks. By offering contract and no-contract plan options at competitive low monthly rates along with a commitment to outstanding customer service, Flash Wireless is a preferred choice for wireless service. Learn more at www.flashwireless.com.
About ACN, Inc
Founded in 1993, ACN is the world's largest direct seller of telecommunications, energy and other essential services for residential and business customers. ACN provides the services people need and use every day including Digital Phone Service, Local & Long Distance, Wireless, Energy, Television, Home Security & Automation, High Speed Internet and Technical Support. ACN operates in 25 countries with offices located throughout North America, Latin America, Europe, Asia and the Pacific. For more information on ACN's home-based business opportunity, visit acninc.com. For information on ACN's complete product suite in the U.S., visit myacn.com.
---
Share this:
---
---