ACN, Inc. Ranked Among the Largest Direct Selling Companies in the World for 8th Straight Consecutive Year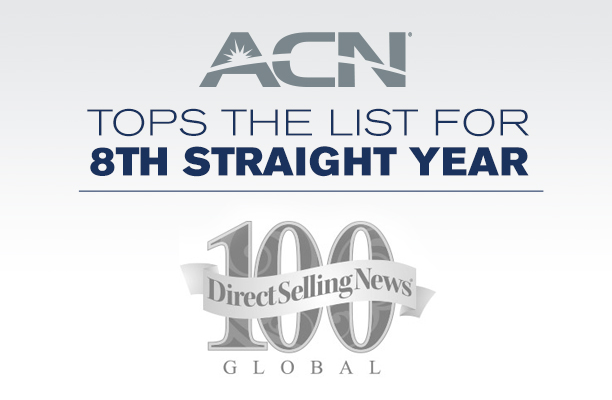 Concord, N.C. — The results are in, the rankings have been released and ACN, Inc. once again stands among the top 100 direct selling companies in the world, taking 26th place worldwide and rated 15th largest in North America.  
Direct Selling News, the industry's premier publication, compiles and publishes its rankings list of global direct sellers annually, rating companies based upon size and revenue. ACN's annual revenues of over $800 million and growing helped to secure the company's spot on the esteemed list. In addition to these newly announced standings amongst direct selling organizations of all kinds, ACN remains the world's largest direct seller of telecommunications, energy and essential services for homes and businesses.
The top-ranking companies were announced on April 7th, 2016, at the Global 100 Celebration in Dallas, TX. Many of ACN's leading executives were present at the event, including Co-Founder Robert Stevanovski, who expressed what an honor it was to have made the Global 100 List.
"It's incredibly gratifying not only to be recognized for our accomplishments, but to be included among such an elite caliber of organizations across the globe," Stevanovski said. "These organizations are a testament to the very real potential of direct selling, and we at ACN are proud both to stand in their company and to provide a one-of-a-kind opportunity to all of our IBOs worldwide."
Direct Selling News publishes the annual Global 100 List with the goal of shedding light and spreading the word on direct selling as a unique industry. The list includes public and private companies from five continents. While rankings are based on size and revenue, many of the organizations, like ACN, are also known by their reputations for giving back to their communities.
About ACN Inc.
Founded in 1993, ACN is the world's largest direct seller of telecommunications, energy, and other essential services for residential and business customers. ACN provides the services people need and use every day including phone service, wireless, energy, payment processing, television, security and automation and high speed Internet. ACN operates in 24 countries with offices located throughout North America, Latin America, Europe, Asia and the Pacific. For information on ACN's home-based business opportunity, visit www.acninc.com.
---
Share this:
---
---