Let's Give Thanks, Today and Every Day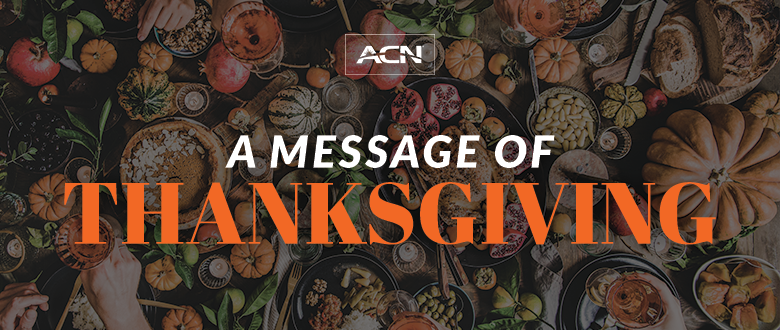 For those of us in the United States, we are preparing to celebrate a very special holiday – Thanksgiving – a time at which we pause and give thanks for our many blessings both big and small.  So, I'd like to take this opportunity to wish each and every one of you a safe and Happy Thanksgiving on behalf of the entire ACN family.
But regardless of where you live or the date on the calendar, shouldn't every day be about giving thanks? Why is this reserved for just one out of 365 days? The late, great Jim Rohn, a personal mentor and friend of ACN, once shared that success – miracles even – often start with being thankful; that through mastering thankfulness, we bless others, and that's when true miracles occur. So regardless of where you are around the world, let's all agree to pause for a moment, reflect on our own lives and appreciate all we have to be thankful for. After all, the greatest of life's treasures can't be measured in dollars and cents, or stored in a safety deposit box. The greatest of life's treasures are found in family, friends and loved ones.
I will certainly spend some time reflecting on how thankful I am for each of you. You are the face of ACN; you make everything we do worthwhile. You are life-changers. There is no holiday, no reminder on a calendar that could ever measure the impact of that.
I look forward to seeing everyone in Long Beach California next week. It promises to be one for the record-books – and a remarkable kick-off to the last month of the year! As you focus on making the final month of this year one of your best yet, remember, ACN can be the vehicle that puts your life back into perspective – allowing you to focus on what truly matters most.
Until next time,
Greg Provenzano
ACN President and Co-Founder
---
Share this:
---
---