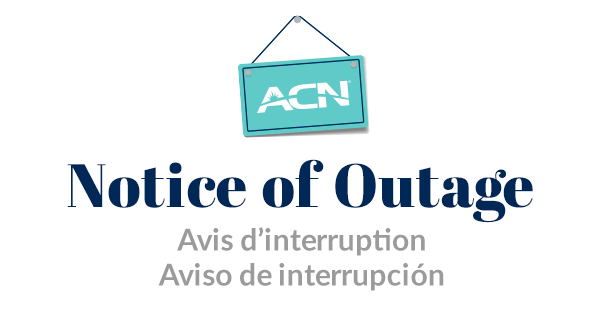 ---
Notice of Outage
The Network is experiencing connectivity issues that may take a couple more days to resolve. This issue is also affecting systems that support our customers such as our telephone payment processing system and the ability for our customers to access their self-care portal, and the Flash Services call center.
We appreciate your patience and understanding during this time.
---
Avis d'interruption
Le réseau rencontre des problèmes de connectivité qui pourraient prendre quelques jours de plus à être résolus. Ce problème affecte également les systèmes qui prennent en charge nos clients, tels que notre système de traitement des paiements par téléphone ainsi que la capacité de nos clients d'accéder à leur Portail client en libre-service et au centre d'appels des Services Flash.
Nous apprécions votre patience et votre compréhension pendant cette période.
---
Aviso de interrupción
La Red está experimentando problemas de conectividad que pueden tardar un par de días más en resolverse. Este problema también está afectando los sistemas que brindan soporte a nuestros clientes, como nuestro sistema de procesamiento de pagos telefónicos y la capacidad de nuestros clientes para acceder a su portal de cliente y al centro de llamadas de ACN.
Agradecemos tu paciencia y comprensión durante este tiempo.