#ACNWomenWinning: Chanelle Burt, Part II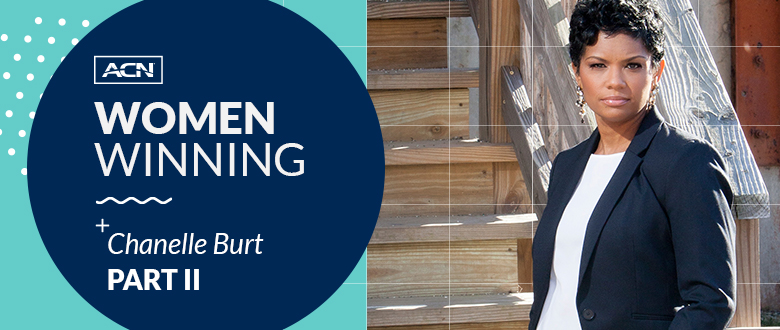 Finding even more momentum at the top
Anything's possible.
Aaron wakes up at 5:15 a.m. daily to hit the gym. He's done so since Christmas. Yes, the man who famously proclaimed that he woke up when he was done sleeping.
"You grow into having different things," says Chanelle, who now has a trainer. "You raise the bar for yourself. We used to eat anything on the go. We're more conscientious now. When you strive to be the best, you want to be coached."
Transformation begins early in ACN. It's that first residual income check. You sock it away or pay off a credit card. You're at every Saturday training. You clean out your car, expand your learning. Work on yourself so that you can help others.
"I see it now, the effect of years of changing ourselves," Chanelle says. "I wasn't a reader before, didn't listen to anything on development. I was watching different things."
Decisions haven't stopped for Chanelle Burt. Like that day in Salt Lake City. "If you can't change the people around you," she says, "change the people around you. You have to be intentional to grow to your potential."
By creating history, building like no one else had. Memories she sees in her social media feeds from four years ago carried a powerful theme: Becoming SVP.
Through the journey to get there, Aaron wished Chanelle was home with their kids more. But his support didn't wane. Still, Chanelle felt guilty at times. "But I went for it," Chanelle says. "I kept building my business."
"I wasn't Aaron Burt's wife when I started, you know. I had to finish what I started."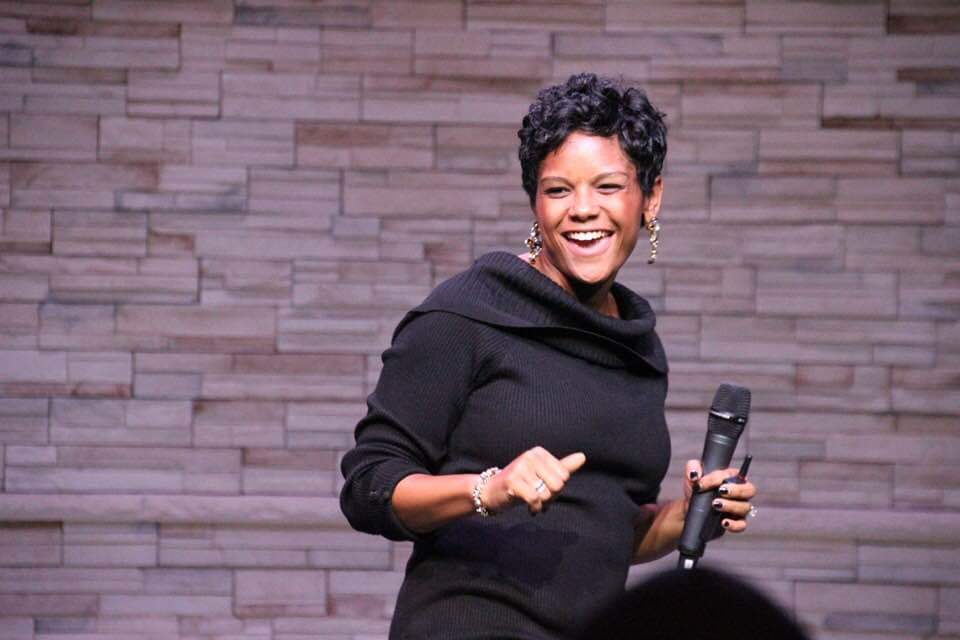 'An emotional mess'
 SVP happened. When the final points went in the system to push her into historic territory, all the memories cascaded down on her.
"I was an emotional mess," she says. "I thought of everything that happened up until that moment. Putting Morgan in daycare for PBRs. Missed activities."
She thought about her son's baseball game she missed because of a PBR. Aaron sent pictures of him with his championship trophy. She cried in another room, pulled herself together, then walked back in to deliver for the PBR.
"Women get overwhelmed, want to quit," Chanelle says. "This sacrifice, it's for a season. It's hard to see that sometimes."
Afterward, she cried again. But she did not stop.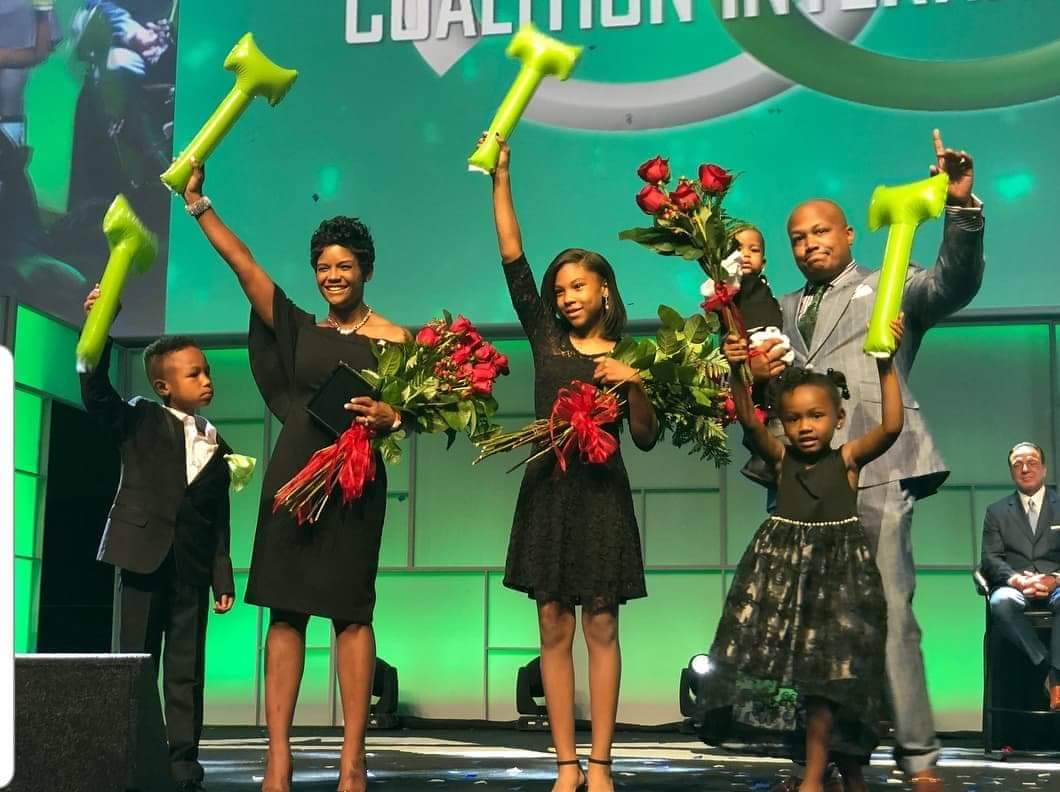 Passionate about winning big
Dr. Monifa Jackson has seen Chanelle do it all. Including encouragement for Dr. Jackson's son. With hard work and dedication to his journey, Josiah Jackson reached Regional Director at age 19. "I couldn't get him to take out the trash!" Dr. Jackson says.
Dwight Brown met Chanelle at a Friday Leadership. "I could tell she was passionate about winning big," Dwight says. "She had a desire to help people win, if they were coachable."
Unflappable as she is, Chanelle endured climbs only Aaron knew about. Early mornings. Late nights. Being pulled away, by miles or phone calls, any time of day. So strong was her dedication that she hated to miss International Training for a pregnancy.
Moving to Atlanta for ACN for a year to build the business wasn't easy. Weeks at a time in Baltimore, figuring out what came next, those were tough.
Tamara Corbin met Chanelle through her direct sponsor. ("He kept telling me, 'you have to meet this lady. She's a boss!'" Tamara says.) She's learned so much from Chanelle.
"'Your friends can love you for where you are, your mentor loves you enough not to keep you where you are,'" Tamara says. "I've heard that so many times."
Also, to get out of your feelings, Tamara says.
"Not in a rude, ego-shattering way, but in a caring about your goals, don't care about your feelings way," she says. "She fights hard for her team. You take one step, she takes five."
Chanelle prides herself on keeping a lid on emotions. But tears returned when she became SVP. You've seen the video by now. The SVP promotion of a lifetime. Chanelle obliterated the suggested time frame to speak. She spent 25 minutes at the podium, every moment worth it.
No one in the house minded.
Hallelujah! She exclaimed with eyes shut. She spoke from her heart. To her organization, the company, and anyone, anywhere who wanted something better, heard her loud and clear.
"These Co-Founders put together a company where it doesn't matter what you look like," Chanelle said. "It doesn't matter where you come from. It doesn't matter what your beliefs are. Every single one of us can win with this.
"I stand so proud today just to be the first to show the possibilities of what could happen."
Today, two of her proteges, Corbin and Brown, stand points away from becoming RVP. The lessons go on.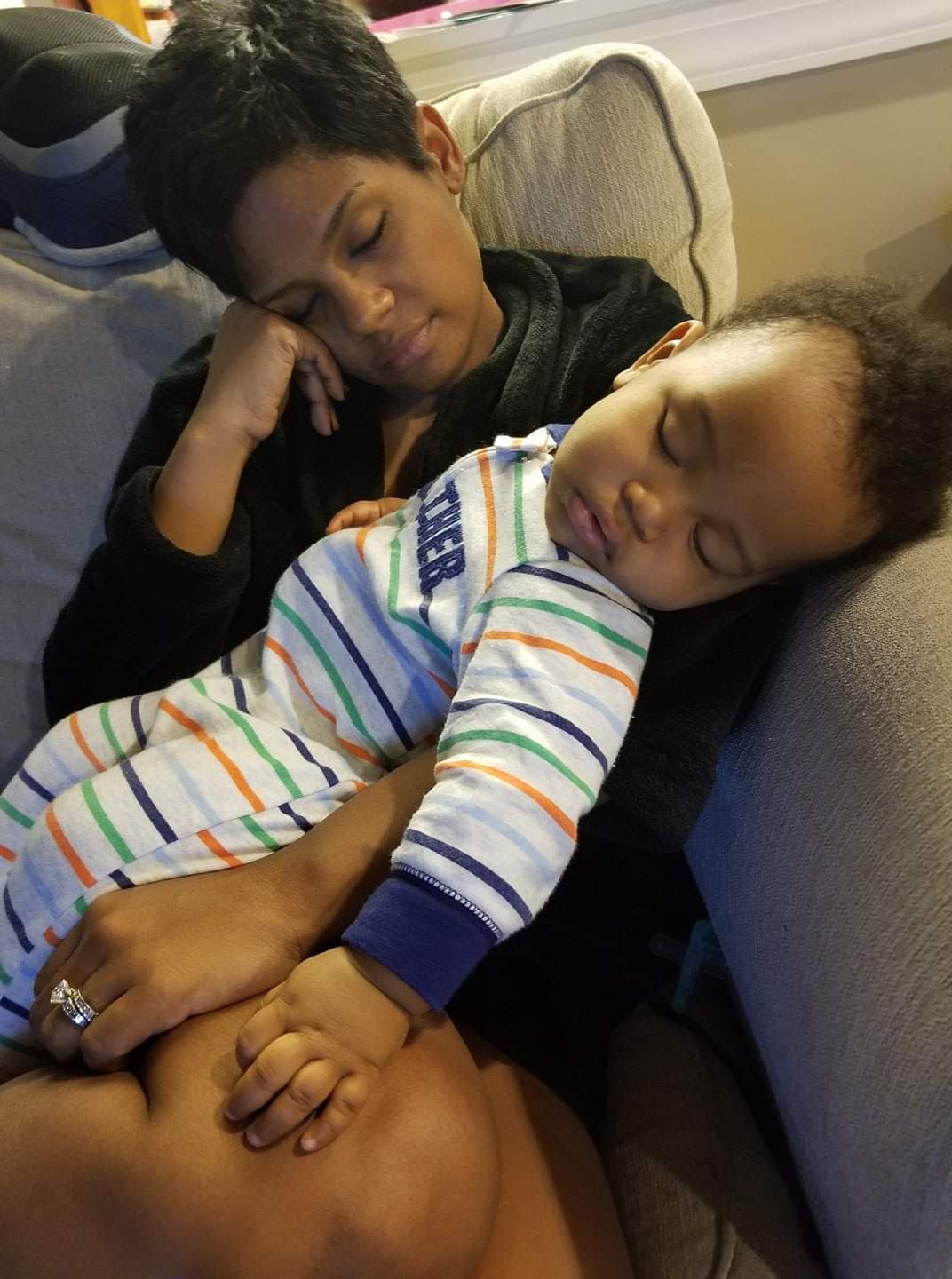 A living legacy
Chanelle began the Women Winning Call as an answer to a need. The power of the stories of such women, other women not as recognized in ACN, was palpable.
"What could we do so that other women building their businesses could see or hear their stories?" Chanelle asked. "It shows that there are women in this. That they carry a piece of the same vision. It's near and dear to me."
Chanelle called it a step of faith to start the calls, every Wednesday. Hundreds of people take part. International numbers ring in: The UK, France, Australia, Norway.  What time difference? Time doesn't stand a chance against winning.
"Women are so motivated. When I travel, people say they are thankful for this," Chanelle says. "We're all women. We're nurturers; we want to win, too. We learn from our mentors."
Men dial in, too. They're there for leadership, regardless of gender. They're also understanding how women work. "When I talk, I say the same things Aaron says, but it's different," Chanelle says.
"Men and women look up to her because she represents what is possible through hard work and dedication," Aaron says. "She juggles a million things and they all come out perfectly."
She encourages callers to stay plugged in to the system, to join in for calls, attend training, and get to conventions. 'I hope to be an example to show women, moms, wives, that you can still reach the top of the company if you want to," Chanelle says.
As Dr. Jackson also climbs the ranks, the gifts she's received aren't lost on her. Work obligations pulled her away from Chanelle's team for a while in 2017. Chanelle implored her to return. She did - and found momentum, plus, she met her current husband.
"Although she is younger than me, she is a seasoned, wise woman," Dr. Jackson says. She is a trailblazing, ground-breaking, innovative, revolutionary pioneer.
"I love her so much and am forever grateful for the impact she has made on me and my family. I will never take her for granted, and am always appreciative of the gift she is to us."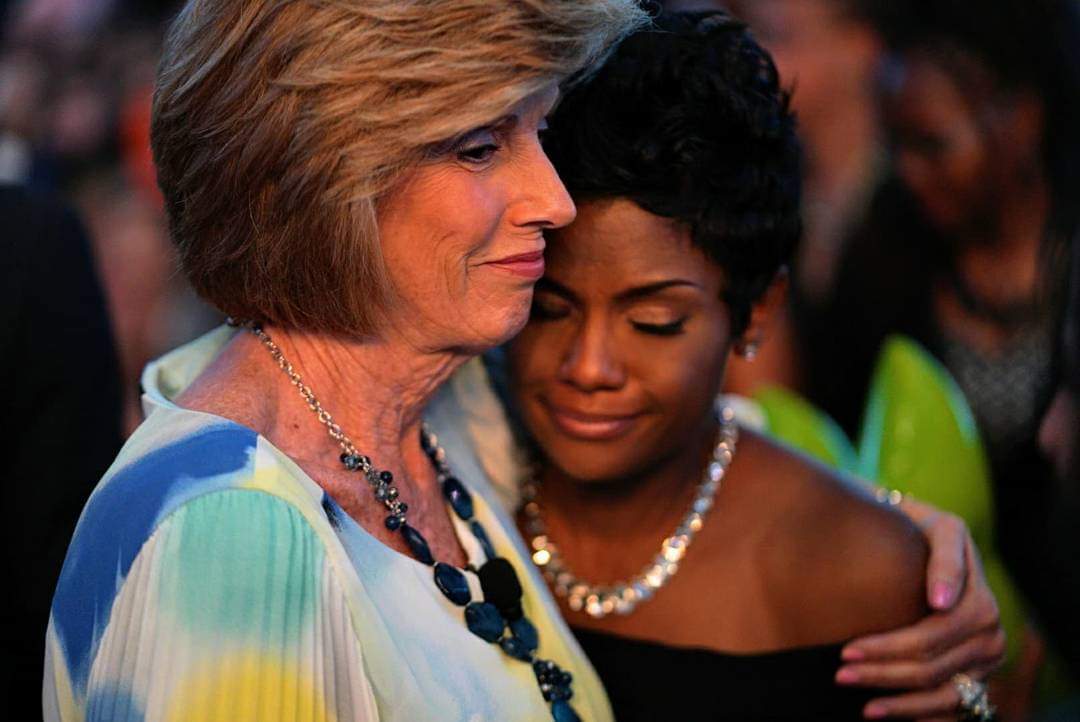 RVPs and SVPs (including Circle of Champions members) earn annual income achieved by fewer than 1% of ACN IBOs. Their success stories and earnings are extraordinary and not typical. Earnings as an ACN IBO are based solely upon the successful sale of products to customers and their usage of those products. Individuals will incur expenses in operating their ACN business, such as the sign-up fee and renewal fee, as well as other possible operating expenses. As with any business, earnings and success at ACN are not guaranteed but depend primarily on the individual's commitment, persistence and effort. Individuals may not earn income and may lose money as an IBO.
---
Share this:
---
---