Unlock Your Potential and Make History with ACN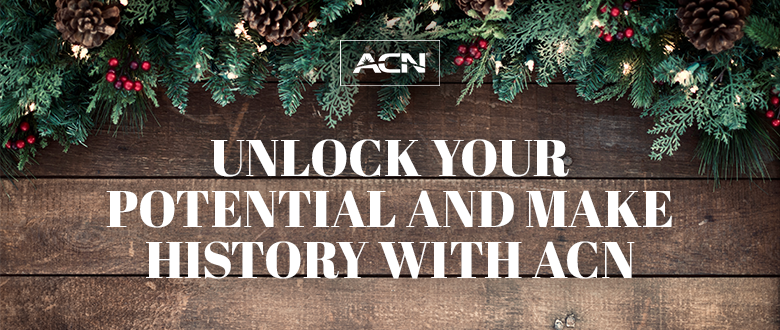 We are well into the month of December, and Christmas will be upon us before we know it, quickly followed by the New Year, a time of new beginnings and renewed focus. During this time of year, as you celebrate and express gratitude for all that you've been blessed with, you'll also take part in a tradition of reflection and assessment, taking stock of how far you've come personally and professionally, while evaluating your strengths and weaknesses to position yourself for success in the year to come. This is the time to ask yourself: Are you where you want to be in your life? What do you need to do to unlock your potential and make your journey with ACN unforgettable in 2020?
As a company, we don't wait for January 1st to assess the direction and impact of our business. Every day we measure our performance and track our progress, because we know that to remain the leading direct seller of essential services year after year, we have to outwork our competitors and be one step ahead of the industry; but most of all, we have to remain one step ahead of our own our expectations. As I look back on our 27-year journey, I can clearly see that we have accelerated our pace by being at the forefront of change and by giving our IBOs real incentives to acquire customers and build an incredible business with us.
And I'm here to tell you that what we have put in place for 2020 is going to make this a historical year for us. You are about to be part of creating that history. In the months ahead, we're going to see phenomenal growth and a significant cultural shift in our business. By now you have heard that we've made strategic changes to our compensation plan to add to your earning potential and streamline the process of bringing new customers and IBOs into your business. We've reduced the enrollment fee from $499 to $199 + $25/month, provided a new residual income structure, introduced new position qualifications, new customers bonuses and more. These enhancements will all go live on January 6.
View the summary of comp plan changes here.
We've put everything in place for you to earn more and become more through ACN. But none of it means anything without your willingness to take action and make ACN a priority in your life every day. Don't wait. Build momentum in December by taking advantage of the points promotion for customers to fuel your success going into the new year. I'm asking you to be fearless and leverage the opportunity that's in front of you. Embrace the process and take action right now to make your next position goal a reality. You have every opportunity to change your life in the years to come, but only if you make the commitment to yourself and your team, lay everything on the line, and take control of your future right now.
God bless. Merry Christmas to you and your family. Let's make 2020 our best year ever!
Greg Provenzano
ACN President and Co-Founder
---
Share this:
---
---