Unlocked Devices Versus Universal Devices - There is a Difference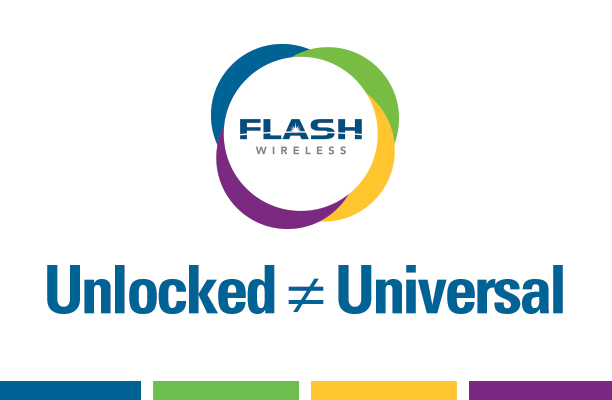 Understand the Difference. Educate Your Customers. Make the Most of Flash Wireless.
A Special Blog Post from Jim Patterson, VP and General Manager of Flash Wireless
Hello ACN! My top priority is to make our customers' experience with Flash Wireless second to none. And to help accomplish that goal, my team and I are committed to arming you, the IBOs, with everything you need to market Flash Wireless – and more importantly, everything you need to close the sale. Oftentimes, wireless users assume an unlocked phone is the same as a universal phone. This is a common misconception, and I'm here to clear it up for you as simply as possible. Bottom line: Unlocked does not equal universal. Understanding the difference will help you when talking to your potential customers about which device is right for them. So, let's get started.
Unlocked Phones:
Unlocked phones are becoming an increasingly popular choice in the U.S. But what exactly is an unlocked smartphone? An unlocked phone is a phone that is NOT tied to a specific carrier or a contract – either a service contract or a device financing agreement – and therefore may work across different carrier networks. Additionally, unlocked phones don't come preloaded with any carrier applications that take up space on your phone. However, unlocked DOES NOT MEAN you can take your phone to any wireless carrier you choose. Phone manufactures introduce specific models that are carrier specific. For example, Samsung produced the Samsung Galaxy S6 specifically for select wireless carriers. The model number on the phone will help identify the carrier the phone was manufactured for. While model number SM-G920P is exclusive to Sprint, model SM-G920T is exclusive to T-Mobile. So an unlocked Samsung Galaxy S6 with model number SM-G920P that is not under a service or device contract could be brought to Flash Wireless on the Sprint network. However, it could NOT be brought to the other two Flash Wireless networks because it was manufactured for the Sprint network.
What else do I need to know? It's also important to pay attention to network compatibility when choosing an unlocked phone. There are two network standards: GSM (Global System for Mobile Communications) and CDMA (Code Division Multiple Access). All unlocked phones work on carriers that use GSM networks. Flash Wireless Purple, AT&T, T-Mobile, Cricket Wireless, NET10, and Simple Mobile all use GSM networks. So yes, if your device came from one of these carriers mentioned and is unlocked, you can bring it to Flash Wireless Purple by using a Flash Wireless Purple SIM Card. Phones that originated on Sprint or Verizon are considered CDMA phones, which means that in most cases they must stay on that carrier's network, even if unlocked. While there are some exceptions, bringing devices from Verizon or Sprint to Flash Wireless Purple (or from AT&T and T-Mobile to Flash Wireless Yellow or Flash Wireless Green) can be tricky. Some models work, and others don't. Here are some rules of thumb:
1)    If the iPhone started on T-Mobile, Verizon or AT&T and it's an Apple 5C/5S. 6, 6S or SE (every current device except an iPhone 7), you can take it to Flash Wireless Purple or Flash Wireless Green with no issues. There may be slower data speeds with some device crossovers, but customers should receive voice, text and data when they move their iPhone from T-Mobile, AT&T, or Verizon to Flash Wireless Purple or Green.
2)    If you are migrating an iPhone to Flash Wireless Yellow, it's best to use one of the universal/multi-network models listed below or on the corresponding Flash Wireless Yellow model compatibility sheet located in your IBO Back Office.
3)    If the iPhone started on Sprint and it's not one of the universal/multi-network models listed below, it's best to only migrate those models to Flash Wireless Yellow.
4)    If the Android phone started on Sprint, Verizon or AT&T and it's not one of the universal models listed below, your customer will have a poor experience unless they migrate on a like-for-like basis (e.g., if the Android device started on Verizon, it's best to migrate to Flash Wireless Green; T-Mobile (or AT&T) to Flash Wireless Purple, etc.).  Fortunately, new Android replacement devices are available for under $200 on the Flash Wireless website.
How can a customer tell if their phone is unlocked? There is only one way to determine if a phone is unlocked: The customer must contact their current service provider. If the phone is currently on Flash Wireless, the phone is considered unlocked. If a customer is not yet part of the Flash Wireless Family, their current service provider is the only source to determine if their phone is unlocked.
Universal or Multi-Network Phones:
Universal or Multi-Network phones are phones that work across all current data and voice networks for each Flash Wireless provider. A number of newer, unlocked phones such as the Moto G4 and the new Samsung Galaxy S7 (SM-G930U) are universal and therefore compatible with all major U.S. wireless carriers. For these devices, customers can choose any of the Flash Wireless networks with an applicable SIM Card. At Flash Wireless, we consider a device to be multi-network if it can work on each LTE network currently provided by Verizon, T-Mobile, and Sprint. Some older devices (e.g., the Apple iPhone 5s) will work for voice but lack newer LTE networks, and as a result, will deliver a subpar experience. Here's the complete list of the 19 Universal or Multi-Network devices that have been manufactured. The devices in red are models currently available for sale at Flashwireless.com.

What else do I need to know? Understanding the model number is especially important for Apple devices. To locate the model number on an Apple device, you can do one of the following:
Look on the back of the device on the lower right side under the Apple icon. The model number is typically in fine print.
Look on the original box the device came in.
Go to Settings >> General >> About and the model number is located there.
For example, the iPhone 7 comes in two models in the US: Model A1778 and A1660. Only the latter model is universal and works on all three Flash Wireless networks. Model A1778 only works on Flash Wireless Purple.
We will be publishing a reference guide for each of the three Flash Wireless networks. The Flash Wireless Yellow reference guide for Apple and Samsung brands is currently available and located in your Back Office.
As always, if you or your customers have questions on a particular model, please check out the Flash Wireless FAQs or chat live with Customer Care, and they can assist in determining if your device is considered a universal device.
Here's to the future of Flash Wireless and all that means for your personal business!
Jim Patterson
VP and General Manager of Flash Wireless
---
Share this:
---
---