The Opportunity to Leap: Leanne Gabriel's Road to SVP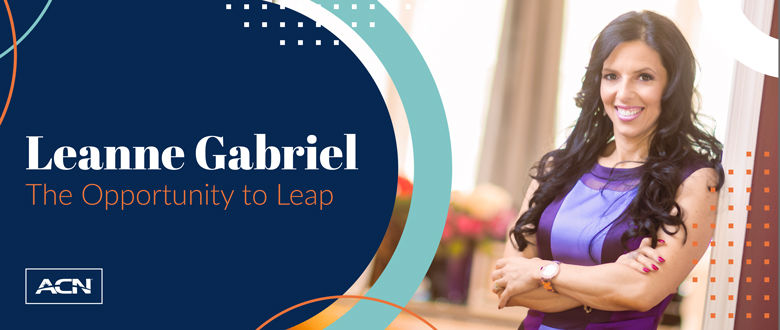 The Opportunity to Leap
Leanne Gabriel's Road to SVP

At ACN, every month is a good month to celebrate women. In June, we're continuing the momentum of Women's History Month by honoring more women IBOs and telling their stories of empowerment.

People join ACN for a variety of reasons: the opportunity to earn extra income, the promise of owning their own business, access to leadership training and in-depth personal and professional development, being part of an optimistic culture and inclusive community … the list goes on. There is truly something for everyone here. Discrimination attorney Leanne Gabriel joined ACN to pay down her substantial student loan debt.


"My husband and I owed a lot of money in student loans," Leanne Gabriel says. "I joined ACN to get rid of Sallie Mae." Sallie Mae is a banking company that services private and federal student loans. "I worked long hours and started doing the math on how I would be able to pay off our loans."
According to a 2018 report by the Federal Reserve Bank of New York, more than 44 million Americans hold student loan debt – a national debt that accounts for 1.4 trillion dollars. 
Leanne and her husband determined that, even with their professional incomes they needed an additional income stream to tackle their student loan debt. At the same time, she saw some things in the practice of law that she didn't agree with and felt an obligation to come to terms with her position and future as a lawyer.

"Being a lawyer was really stressful and disillusioning," Leanne says. "The focus was more on money than doing what was right. I practiced law until it made sense to leave. When I got out, I never looked back."

Leanne's way out of law and her road toward being a Senior Vice President (SVP) with ACN began at an international convention in 1996. There are powerful moments at ACN events where International Business Owners (IBOs) who have worked very hard are able to express themselves and share stories that are raw, compelling, relatable, emotionally inspiring and motivate action and belief. 
"When I went to my first convention, it triggered everything for me," Leanne says. "I fell in love with what the company stood for and what the opportunity was. I wasn't a fast starter, but I got sold on the character of the company at the convention."

Leanne's first event was also her introduction to ACN's culture, one that inspires IBOs to use this opportunity as a way to leverage who they are and discover what they're capable of. That was the inspiration she needed to take serious action to build a business. For Leanne, there was no looking back. But there were still challenges to face. 
"In the beginning, I was bad at this," she says. "I was the polar opposite of a superstar. I did everything wrong and got stood up all the time. I really went through the process of rejection."

What stuck with Leanne and proved to be her ultimate motivation was that if she didn't succeed with ACN, she would have to practice law for the rest of her career. After a time, Leanne began to figure out what worked for her with the business, and how she could use her talents and her personality to create a sustainable and thriving organization. 
"I thought to myself, if I don't make this work, I'll be practicing law for the rest of my life," she says. "I was looking at the quality of life for lawyers and it was non-existent. It was not appealing. I thought, no matter what I had to go through even if it was painful, it wasn't as stressful or painful as being in my current environment. What got me through it 100% were the international conventions. They gave me the belief and conviction to go out and hit it again. It was amazing to have people on my team become successful."*
People from all walks of life join ACN, and while the environment is supportive, the challenges are personal. Leanne involves her family in every milestone and challenge and growth opportunity with ACN and communicates clearly what she is doing for them and how they can be part of the process.

"When I hit Senior Vice President my son was 5," she says. "When he was a little boy, I was working a lot to reach my goals. I set goals with him. I explained to him what I was trying to do. I included him in things to be excited about. If I was successful, he got something out of it. If I didn't do well, I had to own up with him. If you incorporate your children there are life lessons."


IBOs who have succeeded with ACN understand that the opportunity can not only be a complement to life at home, but a way to push barriers and remake what is possible. When Leanne started with ACN, there were no women SVPs or trainers on stage in her area. So she made that her goal.


"When I went to my first training event in the area, it was big and there were a lot of people, but I noticed there were no women speaking," she says. "I went again and there were no women, and then went again, and there were no women. So I walked up to one of the trainers and I politely asked, do you have any women who train or speak? He said no woman has ever earned it. And that became my focus. I was the first woman to speak in my area. After that a lot of women started to do it. If you don't see someone who looks like you, you start to say nobody like me is doing it. That's an opportunity to break through whatever group you represent. It was a big thing for me to become an SVP. I wanted to be the first woman to do it solo. And I felt that takes away any excuse for women, because by that point I was a mom. If a woman is in a market, look at it as an opportunity to leap."
This business provides a level playing field and while every IBO's path forward is paved by hard work, there are benefits to owning your own business that make it all worthwhile. 
"This business was made for women," Leanne says. "There are so many women out there who struggle with their roles of being a mom, a role model and wanting to succeed in their career. There are only so many hours in a day to do that. With ACN, I'm able to have a real career and make my son the number one thing in my life. It's unbelievable. I could never have done that in my previous career. So many women start off and then have children, and they need income and also face the challenge of spending time with their kids. ACN allows you to achieve both."

*Refer to the ACN Compensation Plan for complete details. Earnings as an ACN IBO are based solely upon the successful sale of products to customers and their usage of those products. Individuals will incur expenses in operating their ACN business, such as the sign-up and monthly business support fees, as well as other possible operating expenses. As with any business, earnings and success at ACN are not guaranteed but depend primarily on the individual's persistence, effort, and results of acquiring customers personally and/or through their team. Individuals will not earn income and will lose money as an IBO if customers are not acquired. IBOs must refer to and comply with all Terms & Conditions as stated on the product pages on the IBO's ACN Personal Webpage.
---
Share this:
---
---