Resolve, Resiliency, Redemption & Joy: Danielle Adlam's Journey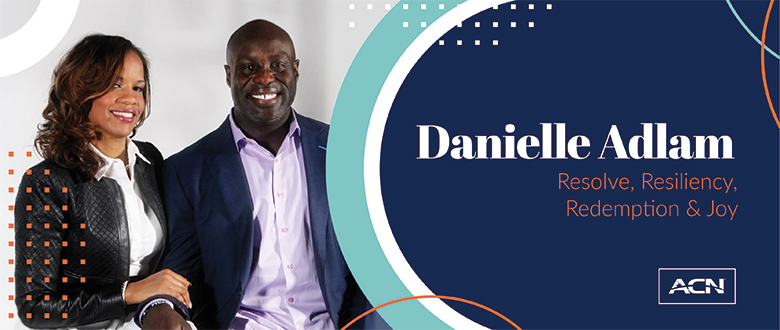 At ACN, every month is a good month to celebrate women. In April we're continuing the momentum of Women's History Month by honoring more women IBOs and telling their stories of empowerment.
Danielle Adlam already had her hands full when she was introduced to ACN. She had just finished her Masters degree in Engineering Management and was a single parent working full time, but looking for additional income and more time with her son. For that, she drove almost an hour to look at the opportunity. At the encouragement of the host, she joined ACN, starting on a path where confidence, leadership and quality time with her son complemented the trajectory of her career. 
A Turning Point
Like many others, Danielle had a pivotal moment when the path in front of her opened up and the course of action she needed to take to reach her goals became clear. "The turning point for me was when I went to an international event in Anaheim, California," Danielle says. "That's when I heard the success stories and realized how huge the opportunity was. I made the decision to win."


At each event, ACN brings IBOs on stage who have earned new ranks to tell their stories - this is where personal challenges and realizations, business accountability and the call to leadership become clear testaments of each person's resolve and belief in the business. On stage, people from all walks of life, age, color and profession express gratitude and describe how ACN has impacted their life. The event in Anaheim was important to Danielle because she was facing skepticism from family and friends who believed they knew what was best for her and her son.

"I was working to build my business and at the same time dealing with negativity from some of my closest family members. They were disparaging the opportunity and refusing to support me and be a customer. I was dating someone at the time who came in during one of my presentations and screamed, 'Stop taking people's money!' Image that! But I still chose to rise above and push forward. To whom much is given, much is required. ACN's culture kept me focused and gave me fuel."


Resolve, Resiliency, Redemption … and Joy
Danielle doubled down on ACN and put in the work to reach significant milestones. With ACN, each rank presented another level of commitment to herself, her son and her goals.


"I would get up at 5 in the morning and go to work and after work rush to Pennsylvania to present, and then leave there and get home at 12 a.m. and do it all over again," she says. "Along the way you understand what mental toughness is, and what most leaders have and what they're able to do to get to the next level. I knew it was my responsibility to share the opportunity that was making a significant difference for me and my family."
Along the way, Danielle also met and married James Adlam and they locked arms and achieved Senior Vice President and Circle of Champions. Through the lens of ACN, Danielle realized that the opportunity presents itself equally to everyone, and that women can use it as a platform for significant personal and professional growth.

"My background is in engineering - a field where mostly men were being advanced over women," she says. "At ACN, advancement isn't subjective. You're promoted by a computer and it doesn't judge your ethnicity or gender. It's a level playing field. Women should see this as an opportunity where there aren't any restrictions on them. There are devices that can measure women's hearts but you could never measure the will power and spirit of her heart. Women have the ability to multitask. We can raise a family, put food on the table, be an entrepreneur and homeschool our kids and so much more."
Danielle found her place in ACN, but not without a lot of hard work, resiliency and perspective. Today she's able to guide and mentor other women who have dreams of what ACN can do for them by leading by example.


"When you truly believe in something, you should want to be great at it." Danielle says. "We're helping provide meals for kids. We're helping people augment their income, and we're helping people change their life. When people truly understand that, they should have no guilt for greatness."
---
Share this:
---
---