Multi-Level Marketing: More Than One Way to the Top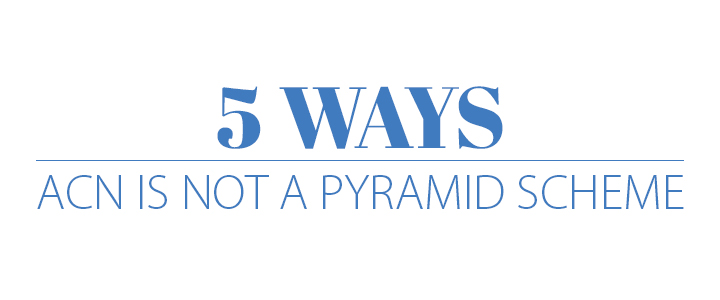 The differences between ACN and the typical pyramid scheme.[/caption] With a pyramid scheme, all lines lead to one spot at the top. In ACN, all lines lead to unlimited potential. The ACN Co-Founders started small. Four men small. Today, from that humble start, ACN has reached 26 nations in over 25 years.
The nay-sayers call multi-level marketing a pyramid scheme, but MLMs are so fundamentally different than a pyramid scheme. Here's how:
1. TRAINERS LEAD HOME MEETINGS
A pyramid scheme emphasizes recruiting those who will pay their way up the line. At ACN, leaders ask prospects to bring people together. They'll learn to add customers and teammates to build a foundation - not line someone's pockets.
2. ACN'S ALWAYS GETTING BETTER
There's an upline pay appetite that keeps a pyramid scheme going. At ACN, there's a training appetite 100 times as strong. From Team Trainer to Circle of Champions, the best keep getting better. And there's nothing like an International Training Event.
3. IT'S NOT ALL ABOUT THE PAY
In a pyramid scheme, it's essential to keep the checks rolling in. At ACN, it's essential to keep the leaders rolling on. Your mentors are company-wide, and we're not finished until we're all finished. Growth for one can be growth for all.
4. THERE'S MOST DEFINITELY AN APP FOR THAT
A fly-by-night pyramid scheme doesn't have much use for a comprehensive app, does it? ACN has developed Compass, the only tool you'll ever need. Show off our company. Manage your business from the palm of your hand. It's all yours, in the Compass app.
Download the ACN Compass app here- iPhone | Android
When you're shady, you don't establish roots. ACN's roots are over 25 years strong. And the system works. Win after win, ACN leaders give others a chance to take control and change their lives. Come see the difference yourself.  
---
Share this:
---
---