ACN Leadership Converges to Launch #ACNnextgen Initiative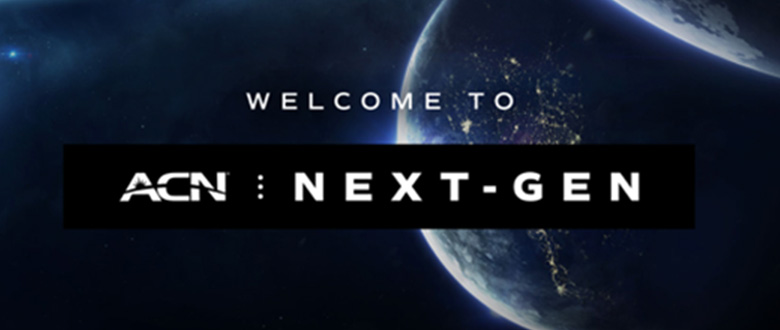 CONCORD, N.C. - ACN Inc., a global leader in direct-sale marketing, announced a sweeping initiative called #ACNnextgen, which aims to bolster the company's growth and sustainability through website consolidation, and enhanced and streamlined experiences for both it's Independent Business Owners (IBOs) and customers.
The plan was introduced to tens of thousands of North American IBOs via ACN's first-ever YouTube Live event on Tuesday, October 23.
"These enhancements come as a result of three goals," President Greg Provenzano said. "1) To streamline and enhance the customer and IBO experience; 2) To dramatically increase the number of new and existing IBOs who make money every month by being a part of ACN; 3) Dramatically increase residual income of our leaders."
ACN leaders revealed the basis for #ACNnextgen, and promised more details as well as integral training on the initiative at the company's next International Training Event in Long Beach, Calif., Nov. 30-Dec. 2.
"We are not afraid of change," Co-Founder Tony Cupisz said. "We embrace change. We've focused on where we want to be a year, five years, 10 years from now. This is the single greatest reinvention of ACN since our founding."
Learn more in Long Beach
Forty-two top producers joined ACN leaders at the World Headquarters for a meeting before the launch announcement. Many cheered as details emerged.
"It seems like our co-founders keep finding ways to better the (ACN) Opportunity," Senior Vice President Chanelle Burt said. "For all of us, 2019 starts today."
More details on the #ACNnextgen initiative will be released at the International Training Event, Nov. 30-Dec. 2 in Long Beach, California. Register for the event here.

About ACN. Inc.
Founded in 1993, ACN is the world's largest direct seller of telecommunications, energy and other essential services for residential and business customers. ACN provides the services people need and use every day, including phone service, wireless, energy, merchant services, television, security and automation and High-Speed Internet. ACN operates in 26 countries, with offices in North America, Latin America, Europe, Asia and the Pacific. For information on ACN's home-based business opportunity, visit acn.com.
---
Share this:
---
---