A Passionate & Compassionate Leader : Renata Krumer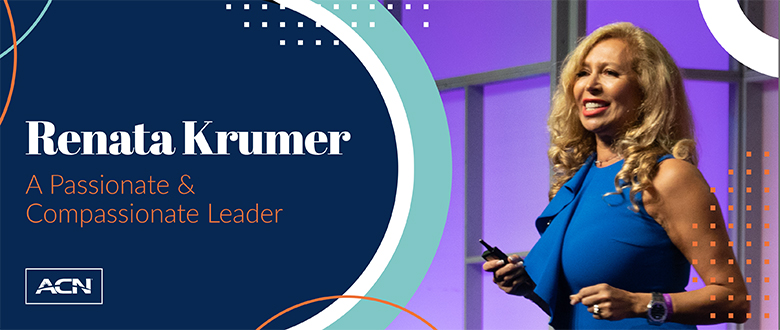 A Passionate & Compassionate Leader
Renata Krumer Helps People Find Their Purpose


At ACN, every month is a good month to celebrate women. In April we're continuing the momentum of Women's History Month by honoring more women IBOs and telling their stories of empowerment.
Renata Krumer has such a deep regard for ACN that she views her team as part of her family and her leadership in the company as an extension of her identity. It's been 30 years since she moved to the United States from Russia, working as a cleaning lady in New York City while earning a business degree from New York University. Renata has a courageous and generous spirit, and when she found ACN, she found an outlet to channel her passion for helping people find their purpose. 
"I was the most popular cleaning lady in New York," Renata says, reflecting on her days when she just emigrated to the United States. "That was a different life. Later I worked as a hotel manager in midtown Manhattan for almost 20 years and had my own radio show on a Russian network."

She worked steadily for two decades and was looking for an additional income stream because along with her husband, Boris Glickstein, they were supporting their three kids through college while caring for her beloved late mother since her health started to deteriorate.


"It was a time when our family was lacking time and money," she says. "ACN was the first network marketing company in my life and the last one, I found home and I'm very grateful for that. ACN is one of the most significant things besides motherhood that I've ever achieved."
For Renata, and for many ACN IBOs who align with the culture, values and mission of the company, helping people is the source of her fulfillment, resulting in a strong and loyal team of difference makers.


"The only way to win in ACN is if you're willing to invest your energy, time and passion in other people," she says, and compares it to being a good mother, wife and daughter. "I don't find anything heroic about it. You authentically become a part of someone else's growth andare a significant part of their fulfillment and success. It becomes part of their legacy and makes a very big difference. I love it and I'm passionate about it."
Renata is passionate about lifting people up and believes the path to fulfillment is simply helping people achieve their goals. If you're new to ACN, or thinking about joining as an Independent Business Owner, Renata has some advice for you: "If you want to be in a better position in ACN, just help more people. ACN is the answer, just find someone you want to help and help them. There are always people who are not doing as well as you. If you want to LevelUP, find at least two people and raise them to the level where you currently are."  
Through this company and this opportunity, Renata has been able to play to her strengths and work on herself. The opportunity has been an expression of her will and compassion for others, and in the process she's made a big difference in people's lives. She's leveraged the platform of ACN to find another level of freedom for her and her family, while leading with integrity and delivering value to customers.

"ACN allows us to be passionate, work on ourselves and celebrate others' successes," she says. "When you're young, someone celebrates our little steps. But when you grow up, no one celebrates you. On my team I celebrate people; that's one of the reasons my team is so successful. When people are celebrated they feel empowered, then they celebrate their team and so on."  
The ACN opportunity has allowed Renata to take control of her life and that has led her to something truly significant: freedom.


"For the first time in my life, I am the Director of my own Human Resources department -- I decide who to speak to and for how long," she says. "You architect your own life. Doing ACN full time, I am my own producer and my own hero. I am in charge for the first time in my life and I love it. If anyone were to read about my life, they would see that I was a very ordinary corporate lady, but ACN has made me feel more relevant than ever. I started at 48, and my last birthday at 56, I realized that I am feeling more relevant, more influential, more passionate and even better looking than ever before. And I truly give all the credit to my blessed company and what it has done for me and my family. It's truly changed the trajectory of my and my family's life. What a great feeling to know that ACN has made me better in every single role in my life. The ACN journey has made me and my husband closer together than ever in our past 25 years.

"For my team, I'm excited to give them a push to run and be free. I'm honored to touch their heart and remind them that ACN can give you freedom and make you a better version of yourself. Today, I am a better wife, mother, friend and leader. Because of ACN, I was able to spend quality years with my mother before she passed away. I consider it one of the biggest blessings in my life, besides motherhood."

---
Share this:
---
---