A Story 25 Years in the Making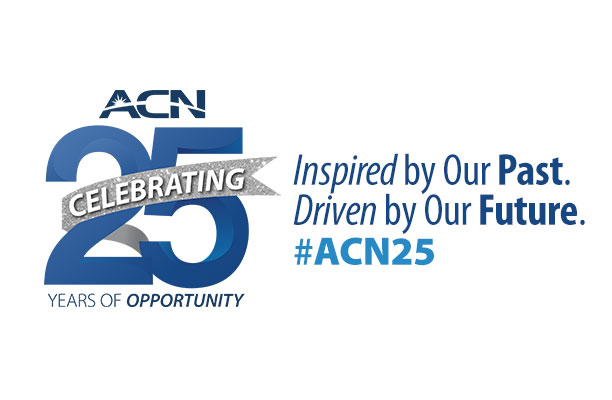 Hello ACN and Happy New Year! Can you feel it? The energy? The excitement? The anticipation? If not, then you haven't been paying attention. ACN is celebrating our 25th anniversary this year – 25 years, 25 countries. And while this is certainly a milestone for any company in any industry, but especially in ours, it's so much more than a date on a calendar. ACN's silver anniversary represents 25 years of doing what we do best – changing lives for the better. That's the heart and soul of who ACN is – it's what we set out to do 25 years ago and what drives every decision we still make today 25 years later and every decision we will make going forward.
It's our tradition to start every new year at ACN with a global theme – something that sets the tone and the vision for the company worldwide. But this couldn't just be any theme. In fact, this might be the most important theme we've ever introduced. A silver anniversary celebration calls for a silver anniversary-sized theme. When developing ACN's theme for this year, the other Co-Founders and I had a few requirements. It had to be a balance between celebrating our anniversary (yes there is a lot to celebrate), representing where we are today (it's an incredible time to be a part of ACN), and creating vision for where we're headed in the future (because it's never looked brighter). And we think we delivered!
Introducing ACN's 2018 Global Theme:  
Inspired by Our Past. Driven by Our Future.  
So what exactly does this mean? Yes, we have a long, successful track record – one in which we've never once compromised the founding principles of ACN – not once. One in which we've helped change the lives of tens of thousands of IBOs while providing a premier experience for millions of customers. And yes, we plan to celebrate that success in a big way. But that's only half the equation.
The other half of our theme represents that even with 25 years of success, we are far from done, far from satisfied. In fact, we're just getting started. Everything we do in 2018 will show that we're established, but agile. We're rooted in tradition, but focused on the next generation of ACN. And while we couldn't be prouder to be celebrating an incredible anniversary milestone, we have the mindset, the energy and the vision of a startup. Because at ACN, we truly are just getting started.
In fact, we will be unleashing ACN in 2018 – and it all starts at our 25th Anniversary Celebration in Charlotte, February 16-18. The things you will see in Charlotte will be unlike anything we've ever done – there will be firsts for our company and firsts for our industry. Rest assured, this will be one of those moments where you look back and ask, "Where were you when ACN made history?"
So are you ready? Are you ready for ACN's best year yet? Are you ready to make it your best year yet in ACN too? Recommit to maintaining the same excitement, enthusiasm, energy and no-quit attitude you had your very first day in ACN – and I assure you this will be the year you look back on your own journey and say, "2018 was the year my life changed forever."
I look forward to seeing you all in Charlotte.
Until next time,
Greg
---
Share this:
---
---