What My First International Event Meant to Me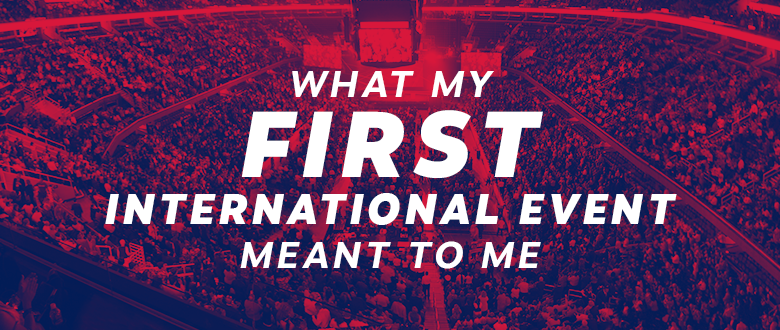 By Eli Pacheco
You hear it all the time from IBOs: You MUST go to International Training!
We know it's not always easy, or even possible, to make that trip. But attend an International Training Event, and you'll hear the stories. Caravans. Packing into a compact car. Sharing a hotel room with many of your closest teammates, eating Ramen and cheap potato chips.
All to soak in the knowledge and networking you can't get anywhere else that can assist you in your efforts to grow your business.
International Training is on the horizon. [Not registered? Sign up TODAY.] We asked IBOs to reflect on the first time they stepped up and stepped out to an ACN International Event. Some of the biggest stars had the rockiest roads to success - and simply to get to International Training.
Check out some of their stories here.
What's your story? Email eli.pacheco@acninc.com and we might feature your trek in the next post like this. Whether you travel 2 miles, 222 or 2,222, there's a great chance you'll be transformed by the experience - getting here, and being here.
Success - on the way
Aaron Burt's first International Training Event illustrated bigger possibilities for his life. A security he could attain for his family through hard work and dedication to his business. Like many making their Training debut, Aaron hadn't had a ton of success - yet - when he arrived.
"The Event allowed me to identify with leaders who were in my previous situation of financial hardship, but worked hard to out-learn their problems," Aaron says.
To see a venue packed with positivity and momentum - it was in Atlanta, for ACN's 10th anniversary - was the social proof Aaron needed. He met lifelong friends that weekend, people he says he continues to pursue greatness with.
"That environment made me bulletproof to negativity," Aaron says. "I no longer cared what family and friends thought of my involvement. I knew I could do it without them. In Atlanta, I felt the heartbeat of the company and the genuine love of the Co-Founders."
ACN trainers spoke of what the company could be in the next 10 years. The timing was ideal for Aaron to step in.
"I have been able to play a role in the vision that was painted at that first event," he says.
Showing what's possible
Big things happened at an Atlanta International Training Event for Patrick Maser, too.
Patrick, an SVP, says he saw people just like him, putting in the hard work and winning, being promoted to RVP. Heartfelt speeches and inspirational promotions showed Patrick what could be possible if he put in the work to get onstage. 
"My first convention gave me what I was looking for - a true home where anyone could win if they were committed and put in the work," Patrick says, "I gained great belief in the company and belief in myself." 
Catalyst for change
Renata Krumer's job as a hotel manager in New York City was going well. Her property had just hosted three world leaders at a United Nations summit. But the pay wasn't incredible even though the work took so much of her time and flexibility. 
International Training became the catalyst for change.
"I strongly believe that we wouldn't be able to stay in the game, making such a large a difference for more than 2,200 amazing human beings for the past seven years, without attending our very first International Event," Renata says. 
Her mentor, SVP Byron Nelson, asked, "Renata, how long do you want to have a boss in your life?" It was enough for Renata, then 48, to move to action.
"Thank God my then-skeptical husband, Boris, made a decision to join me at the first event, in Los Angeles," Renata says. "And the convention did its magic again. When it was over, I realized that I am traveling home with my first most loyal and passionate partner, my husband."
The Event won over Boris, too. Now, with hard work and dedication, they're RVPP and in the Circle of Champions.
"We're blessed to have the most servant humble leaders in our Matrix family," Renata says. "Our team is our treasure."


- - - 
Learn more about ACN and the ACN Opportunity today. 
---
Share this:
---
---